The haystack in the picture is called Grainstack in Sunlight, or and in my view more aptly, Haystack Pink and Blue, Impressions. It was painted by Monet with oil on canvas between autumn 1890 and spring 1891, measures 60cm x 100cm and is part of a larger series of 25 haystack paintings. The artist divided the canvas into three broad horizontal bands onto which he superimposed the simple construct of a haystack. The foreground takes up half of the canvas and depicts the floor of the mown wheatfield in yellow using short deliberate brushstrokes.
The spread of yellow is interrupted with blues and pinks to denote the impact of light upon the wheat. Anyone who has walked through a freshly harvested field would, I hope, agree that Monet has successfully captured the nature of the uneven and rough ground. The middle section of the canvas is defined by a broad horizontal line the colour of terracotta which runs from the left fringe of the haystack to almost the left margin of the painting.
In the middle ground there are several small cottages outlined in white with brown sloping roofs drawing the eyes to a wide band of blue and stippled green paint, used to denote the distant hillside.
The top section of the painting, sees the interplay of gold and yellow and is, to my eyes, its most striking aspect and highly evocative of the effect of light on cloud; the hint of red just above the horizon on the left is redolent of those late afternoons in summer when, as the old saying goes, a red sky at night is shepherds delight. Turning to the haystack, we know haystacks are yellow and yet here Monet's mastery of his medium allows him to represent it with a wispy dark peak and a body that, as a blank canvas, makes use of subtle browns, reds and muted purples. Most striking is that the haystack absorbs colour and it is only those colours it cannot absorb that are reflected. The whole scene is bathed in bright sunlight and the painting seems to shimmer on the eye of the viewer. There is also the slight impression of a light breeze blowing across the field.
The Series
Haystack Pink and Blue, Impressions, stands as a work of art in its own right. However, it was Monet's intention that it should be viewed together with the other 24 canvases in the series, because it is in that context that its maximum impact on the eye lays. Other titles in the series include:
Grainstacks in the Sunset
Wheatstacks, Snow Effect
Haystacks, Midday
Haystacks in the Sun, Morning
The 1890/91 series wasn't the first time Monet had included haystacks in his paintings, they had appeared in several works where they were not the principle subject. In 1888, he had also painted haystacks as a subject in their own right. Experts now agree that the definitive Haystacks series includes only paintings from 1890/91. Sadly, it is no longer possible to view the series together as the canvases were long since separated. Six are in the Arena Art Institute Chicago; others, the Getty Centre Los Angeles; Hill Street Museum, Farmington, Connecticut; the National Gallery of Scotland and many, including our subject, are housed in private collections.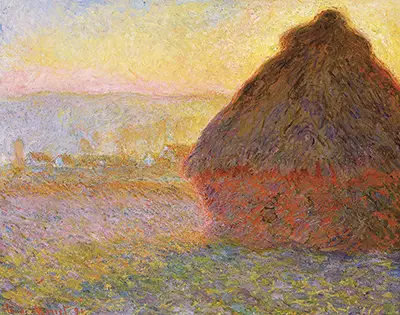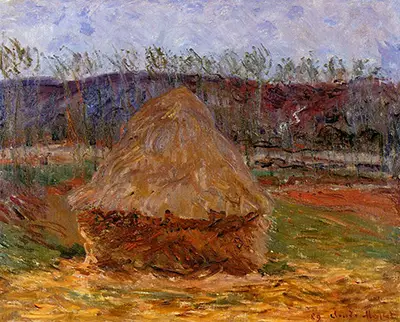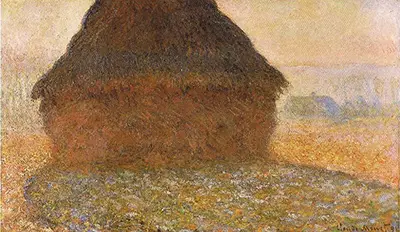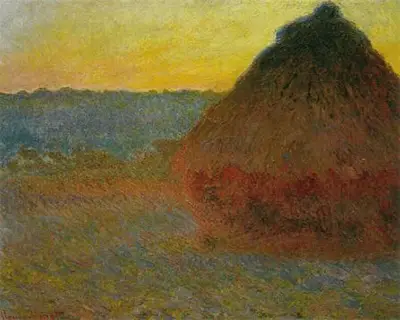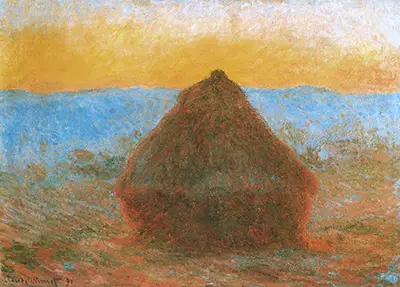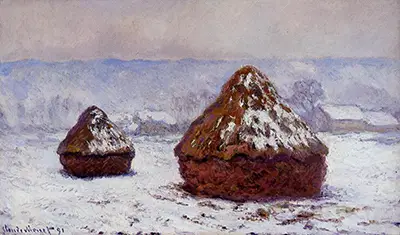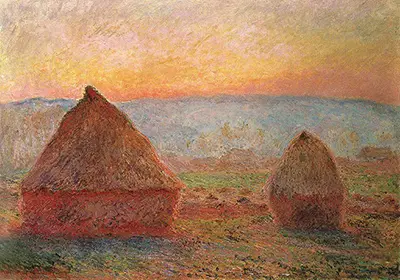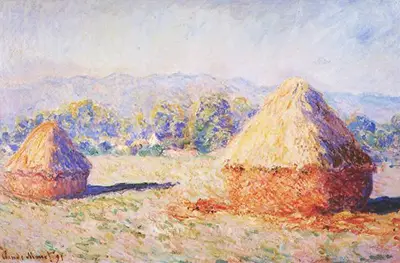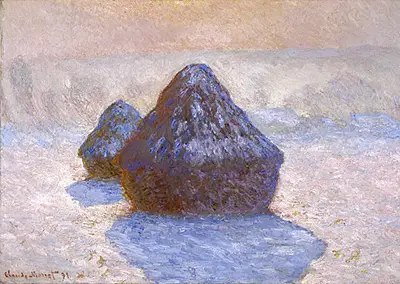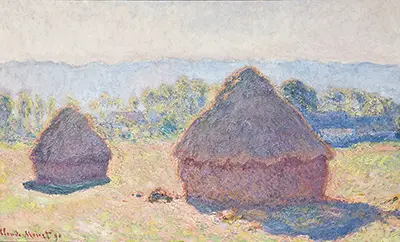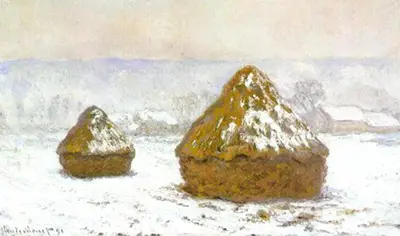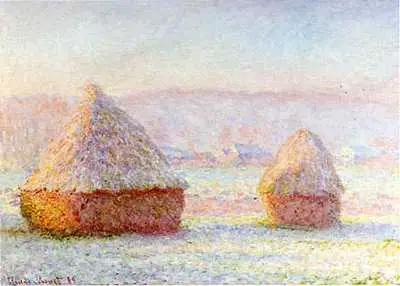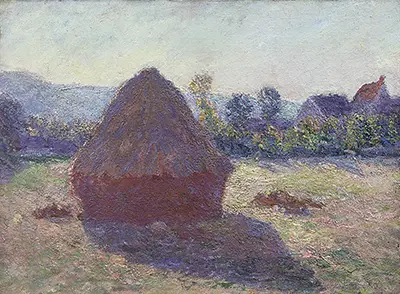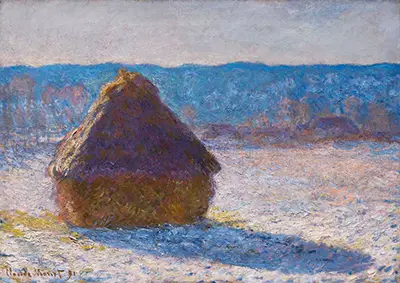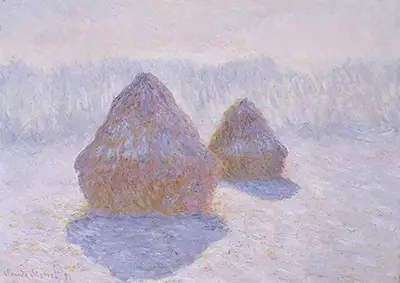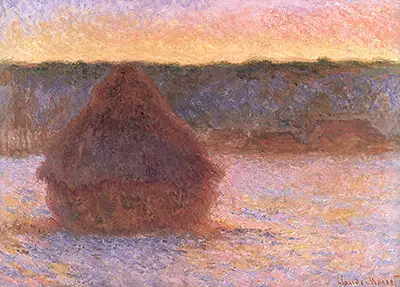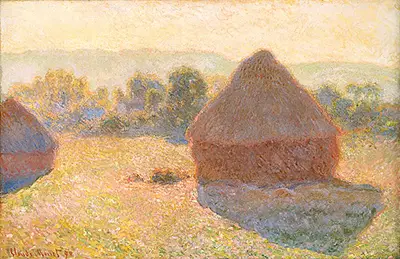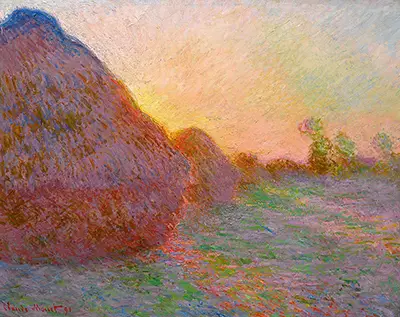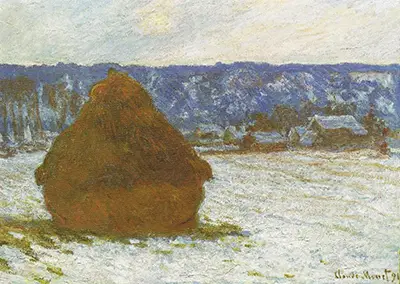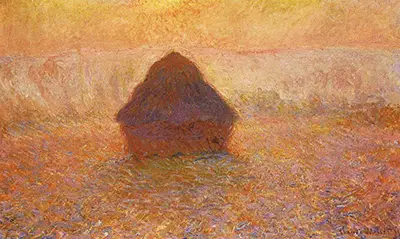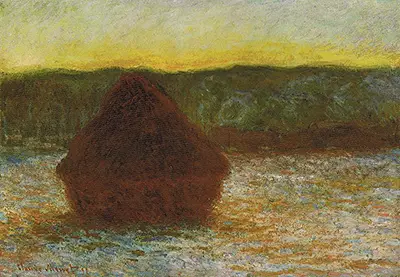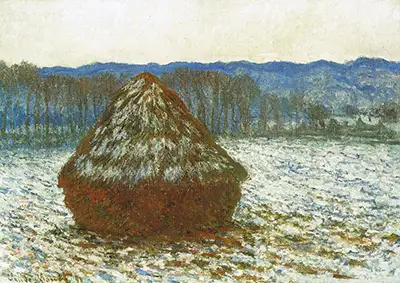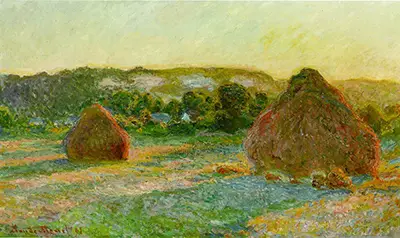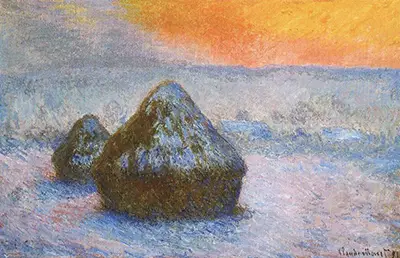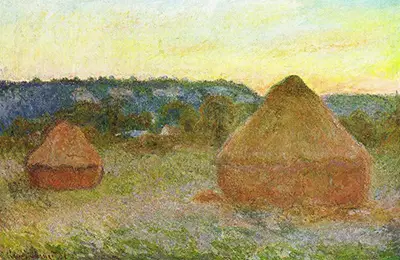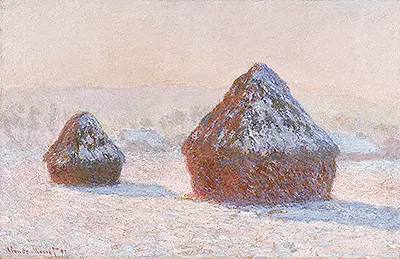 Haystacks and the road to Impressionism
Monet was born in Paris in 1840 and although he received formal training as an artist he was keen to find new ways of painting. This was at a time when the camera was developing and challenging old forms of representational art. Monet mixed with artists young and old around the salons, cafes and exhibitions of mid-nineteenth century Paris. His early experiments brought him into contact with Renoir, Sisley and Pissarro, all of whom were struggling against the prevailing artistic conventions of the day and attracting for their work nothing but approbation. When, in 1874, the Academie des Beaux Arts refused to exhibit their work, the artists arranged an exhibition under the title of, The Anonymous Society of Painters, Sculptors and Engravers. It was the critic Louis Lengi who, in a review of Monet's Impressions Sunrise, first used the term impressionism in a derogatory sense. It was Monet who turned it into a term that described what he and those who shared his approach were trying to achieve. Today he is regarded as the father of French impressionist painting.
Impressionism
Whilst Monet and his French colleagues were exploring the possibilities the new style of painting created, others like the Italian, Macchiaioli, and Winslow Homer from the USA were also experimenting with a similar style. The basic idea behind Impressionism is that the artist should paint what they see, as they see it; Peinture Sur Le Motifis the French expression. This represents a massive departure from previous landscape, still life and portrait paintings that were created in the studio. To achieve the desired effect, the artist had to paint at the scene, or Plein-air. The idea of painting in this way first came to Monet in 1856 following a meeting with Eugene Boudin whose paintings of beaches showed an appreciation of how time of day and climatic conditions could have a marked effect on a scene. Monet went on to perfect this technique during the five years he spent, periodically, living and working in a floating studio on the River Seine. Crucial to impressionism is the effect of light, direct or indirect on objects, what it does to colour and how it makes colours appear relative to each other. It is also about how colour is used by the artist in its pure form as well as mixed with other colours and laid on to the canvas with short brush strokes to create a vibrancy that captures the imagination of the viewer. Central to this is time of day, season and climatic conditions; time and colour being major themes in Haystacks Pink and Blue, Impressions.
Haystacks
The fact that, following the harvest haystacks were ubiquitous in areas of France where agriculture was predominant wasn't why Monet chose them as his subject. He chose his subjects only after much thought and haystacks became his recurring motif because, although a haystack was something that everyone was familiar with, its simple shape provided the perfect vehicle for achieving his impressionistic objectives of showing a common subject, in broadly the same location against a wide variety of different seasonal, climatic and time-settings. Culturally too, the haystack has significance. Prior to the invention of the combined harvester, large threshing machines were needed to separate the stalks and chaff from the wheat?
Threshers would travel the countryside after harvest offering their services to farmers who needed them and work would continue until the last haystacks had been threshed, which could take until the following spring. The haystack was a way of preserving the wheat and protecting it from the elements. The shape of the stack was determined by local tradition and the ones in Monet's series are typical of those in that part of France. Normandy where Giverny is situated. The haystack is seen as an item of permanence, of mans mastery of the element, enabling him to reap from the harvest in order to feed himself and his animals. Moreover, it is both the culmination of the age old agricultural cycle and a reminder of encroaching industrialisation and urbanisation.
Executing the painting
With subject chosen, Monet asked his stepdaughter Blanche Hoschede to bring him two canvases. Once work began he soon realised that two was a gross underestimation and that because of the quickly changing scene he needed more. What a film it would have made, Monet, perhaps helped by his children, transporting a range of unfinished canvases, artists equipment and an easel (perhaps more than one) to site of the haystack. Monet would then chose the canvas that most resembled the current conditions, work on it until those conditions changed, then substitute it for another uncompleted canvas that reflected the new conditions, and so on, eventually completing the series. Sometimes he was only able to work on a canvas for a matter of minutes before he had to change it for another. The essence of this is perhaps best captured in his own words:
"...For me landscape hardly exists at all as landscape because it's appearance is constantly changing, but it lives by virtue of the surroundings, the air and light which vary continually..."
Recurrent motif in Monet
The recurrent use of the same subject became a predominating factor in Monet's work. In 1889 he painted a series on the Valley of Creuse. 1892 saw him paint a series of paintings of Rouen Cathedral, detailing how light and colour played on medieval stone work. Later, waterlilies would become a regular subject of choice. Monet wasn't the only artist to experiment in this way and the series influenced the works of Les Favures, Derain and Vlaminck. Neither was Monet the only artist to paint haystacks; Van Gogh painted the ones he saw around Arles in 1888.
Commercial success
The series of which Haystacks Pink and Blue, Impressions was a part was exhibited by Durand-Ruel in May 1891 and was well-received. So much so in fact that each painting sold for around 1000 francs each. This was a breakthrough both artistically for Monet and for French art, and also financially for the artist. The money raised so improved Monet's financial standing that he was able to buy the house and land at Giverny and begin the constructing of his garden and waterlily pond.
Monet Haystacks are a popular topic within impressionist art and refers to a series of paintings by French painter Claude Monet who used Haystacks as a means to experiment with how objects' appearance can change when subjected to different conditions like time, light and weather. Besides Haystacks Monet also tried similar experiments with water lilies, poppies and his very own bridge that was specially created in his back garden in Giverny in France. The Haystacks series was famously presented together in one exhibition with the artist doing his best to get across the purpose of this lengthy group of study paintings.
The main focus of Monet's Haystacks paintings was to alternate between different seasons and positions to give different colour balances on the same object, which intrigued artist Monet. Perhaps the choice of Haystacks as an object for this sort of experimentation was done because Claude required something that was relatively three-dimensional and did not have too much external detail that might complicate the findings of his studies of light and season. One major focus of Monet's work with time involved the same objects subjected to sunsets and sunrises which gave a whole new palette of colours to the artist. You can learn more about Monet sunset paintings here.
Monet Haystacks above is the most popular from the full series, with this one offering a dreamy blend between object and surrounding landscape with a clear boldness of colour coming from a probable sunrise or sunset at the time of this painting, with a darkness across some areas of the painting with others filled with reds and yellows. As Monet experimented with different compositions of the Haystacks that spread across the field in Giverny many offered several together but in this painting he focuses on just one Haystack which helps him to go into far greater detail as to the effect of the distribution of light over the object.
Haystacks in just one of several exciting topics that Claude Monet experimented with to great length during his career. Monet water lilies are another popular mainstream topic, with the painter's own garden in Giverny serving as an excellent base for the artistic study of these beautiful flowers as they floated around his specially constructed pond. Giverny's Haystacks were the inspiration for this series of paintings with Claude Monet finding this area of France to be his biggest inspiration for the landscape paintings which spearhead his whole career. Giverny was put on the artistic map by Monet as he stayed and worked here for many years, constructing his famous garden which many tourists from all around the world still regularly flock to in order to capture a glimpse of the source of creativity that drove so much of this famous artist's work.
The local landscape around his own home was also inspirational and filled with haystacks, poppies, lilies and all sorts of different varieties of trees that themselves made it into his paintings. The series of Haystacks paintings numbered a total of 25 and were displayed together in a notable impressionist exhibition. The series itself was created in 1890 and covered a full harvest season where Monet concentrated on as many aspects of the environment and it's effects on his subjects as possible. The large number of works in this series fortunately makes it relatively easy to get to see at least one of them with your own eyes, with the originals spread all over North America and Europe, always amongst the finest galleries and museums who were able to purchase them plus cover future insurance costs.
Haystacks in Sunset is another of the series of 25 on Haystacks, and a noble member of this select group of paintings. Monet did feature Haystacks on occasion outside of this 1890 set but they rarely get the same level of exposure. For those interested in the career of Claude Monet and his many hundreds of paintings which all achieved great standards within the impressionist movement, please visit the prints section which features a great selection of Monet prints with some opportunities to buy your own reproductions of the artist's originals as well as further discussing his extensive career. Haystack in Winter painting offers an alternative colour scheme with very soft shades bringing great light into this work and a neutral palette which would ideally suit many living rooms whose owners are looking to add some art for decorative purposes.
The great variety of angles and colours within the series means that anyone looking to get their own reproduction can find exactly the look they need from within the list of 25 titles available in this series. Haystacks series helped to distinguish Monet from other artists within the impressionist movement as someone who would spend extraordinary amounts of time studying the same set of objects in great detail and would happily produce one painting after another which together would demonstrate his artistic findings. Most landscape artists of this time would concentrate only on locations for their work and move around to find a new spot each time rather than staying in the same place for several works under different conditions.